Joaquín is an award-winning creative and mixed-media director based in Barcelona. His craft work, focused on moving image, has been recognized by SXSW, Laus Awards, Vimeo Staff Picks, Stashmedia, Motionographer, Art of the Title and Ciclope among others.
Graduated in Graphic Design from the Visual Communication School PRO DISEÑO (Caracas, Venezuela) and with a wide background in editorial projects, Joaquín moved to Barcelona in 2001 where founded and directed (for more than 10 years)
No-Domain
, the awarded studio that brought a new organic voice to the motion graphics landscape of that time.
In 2013 received the
Gràffica Award
and started in 2016
his current studio
Dedo Ciego,
together with art director
Ana Gale
, obtaining a golden LAUS prize for their first commisioned video work.
Joaquín also has been passionately involved in live music visuals for 20 years, a field that has constantly fed his visual explorations. His visual work dedicated to music has been showcased in festivals and cultural institutions such as Sonar, Unsound, Mapping, L.E.V., MiRA, Xcèntric, MUSAC, MIS São Paulo and CCCB among others.
He plays electronic music, under the name
Pola Tog
.
AWARDS
LAUS Gold 2022 (audiovisual)
LAUS Bronze 2022 (audiovisual)
LAUS Gold 2021 (audiovisual)
LAUS Silver 2021 (audiovisual)
LAUS Silver 2020 (audiovisual)
LAUS Gold 2017 (audiovisual)
VIMEO STAFF PICK (2016, '13, '12)
SXSW finalist (2015 - title design)
SXSW finalist (2013 - title design)
CICLOPE finalist (2013, '12 - audiovisual, title design)
GRÀFFICA AWARD 2013
LAUS gold (2008, '05, '04 - audiovisual, tv/film identity)
LAUS silver (2013, '12, '10, '09 - audiovisual, title credits, animation, music video)
LAUS bronze (2013, '11 - tv/film identity)
ADC*E nominee (2008 - audiovisual)

FEATURED
Booooooom, PromaxBDA, Stashmedia, Art of the Title, Xcéntric, The Creators Project, Gràffica, Fast Company, Motionographer, Onedotzero, The Curious Brain, Die Gestalten Verlag, Spain in Motion, Yorokobu, Triangulation, +81, PAGE, Motional

CLIENTS (brands, agencies, labels)
Bankinter, RTVE, El País, Ara Malikian, Red Bull, Solvia, Gas Natural, Direct, BBVA, Generali, Movistar+, Yoigo, FXM Networks, Virgin Mobile, Heineken, J&B, Toyota, BCN Ajuntament, TV3

LOLA MullenLowe, Sioux&Cyranos, USTED, Soon in Tokyo, *S,C,P,F…, Vasava, El Laboratorio, KesselsKramer, Contrapunto BBDO, Saatchi & Saatchi, Sonar Advanced Music, DDB Barcelona, Sra. Rushmore, CAP Bucarest, McCann BCN, Yslandia, Canada

Primavera Labels, Hivern, Dublab, Domestica, Naive, Ninja Tune, Tresor, Haunt, Disboot, Station55, Sleep Debt, True Gems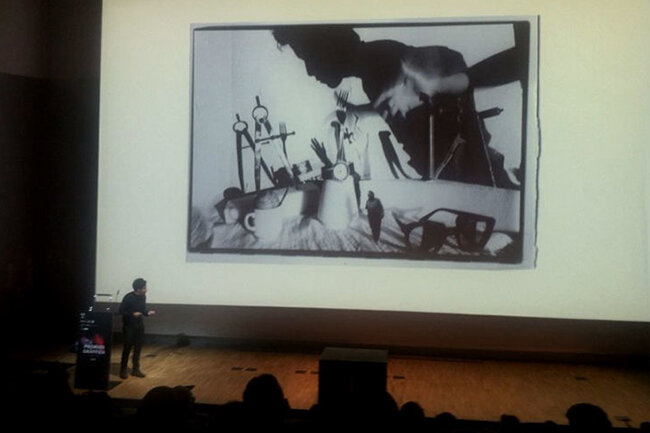 TALKS & WORKSHOPS
Joaquín has given workshops and lectures in design schools and festivals like Elisava, Idep, OFFF, MAD, TELMO, Blanc, Serifalaris, Broadcat, ADC*Tulsa, Gràffica, Get Set, C de C, Escuela de Arte de Granada, ESAD Caldas, Design Envy curator (AIGA).
He is currently professor of the "Audiovisual Creativity and Direction" Master at ELISAVA and teachs Stop-Motion at LABASAD's Motion Graphics Master.
︎
CONTACT
joaquinurbinap@gmail.com
+34 610009742
Dedo Ciego Studio
︎
Director (Dedo Ciego ) Representation
Blackbox
(Spain)
Brut
(USA)
NFTs
︎
︎
︎